We are delighted to announce our new sponsors, Hockeys Estate Agents.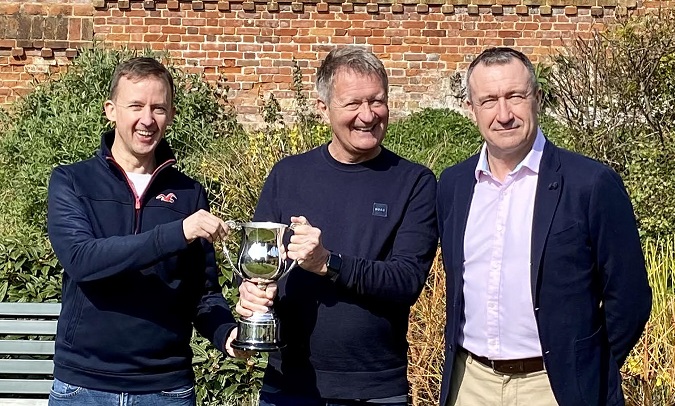 Daniel Plumb (right) from Hockeys said "As one of the longest established estate agents in the region, Hockeys in Cambridge has a history of supporting the community and sporting events and now wish to continue with this in the Saffron Walden area."
Henry Rowe (centre), former Saffron Strider, and long time friend of the Club announced he will continue his long association and will be supporting the 5k Summer Series by donating a trophy.
The trophy will be awarded at the end of each series to the running club member who has made the biggest contribution over the series and is open to all participating clubs.
The League was formed at an inaugural meeting on the 15th May 2003. Clubs currently involved are Cambridge & Coleridge AC, Cambridge Triathlon Club, Ely Runners, Haverhill RC, Histon and Impington Runners, Newmarket Joggers, Royston Runners and Saffron Striders RC. This year, 2022, there will be 5 races.
Events take place one evening per month throughout the summer, with each club hosting one event. All races are held on a Thursday evening starting at 7:30pm, unless otherwise stated.
For more information about taking part, see our "What to Expect" guide.
Fixtures can be found on the Race Calendar.
For further details contact Fliss Tournant at race@saffronstriders.org.uk
Event 1: Thursday 28th April 2022 – CTC/Histon & Impington Runners (Chivers) – Full results
Event 2: Thursday 19th May 2022 – Haverhill RC (Horseheath) – Full results
Event 3: Thursday 9th June 2021 – Newmarket Joggers (Newmarket racecourse) – Full results
Event 4: Thursday 14th July 2021 – Saffron Striders (Carver Barracks) – Full results
Event 5: Wednesday 17th August 2021 – Royston Runners (Royston Heath)
Scoring
First 5 men and first 5 ladies to count with every other finisher scoring 1 point for their club.