Saffron Striders Running Club
Established in 1989, the Saffron Striders are a Saffron Walden based running club for catering for all abilities: from 'keep fit', to Marathon and beyond.
Latest Results
Submit results to our Results Database via mail to web@saffronstriders.org.uk
Results now up for:
Hurtwood 50k
Essex XC Vets Championship
Hereward Relay
St Neots Half Marathon
Stebbing 10
ATW Remembrance 5k, 10k & HM
The Maverick Exposure Lights Dark Surrey
Bonfire Burn 10k
Thursday night track training
The club has secured the use of the athletics track at Carver Barracks up until Christmas for Thursday evenings 7pm till 8pm. The coaching team will hold a track based training session every week and have worked out a rota.

However, this is where we need your help. We require a team of people to man the gate from 6.45 to collect the key from the gatehouse, supervise arrivals and lock and return the key after the event.
This is your chance to give something back to your club and if you would like to help out you can register your interest here.
Strider of the month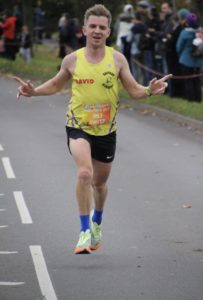 This month's fantastic Strider of the Month is David Raimondo. Fantastic series of results and always a great supporter
Check out our latest club activity…
Read about the latest club news in our monthly newsletter
a little about…
Saffron Striders
As the name suggests we are a running club. We have around 250 members drawn from the town and local villages, and cater for all abilities from "keep fit" to marathon and beyond.
A brief history
"Striders" was formed in 1989 by Gay Jeffery as a ladies club, running from the local supermarket car park! Men joined in 1990 and now (and not just because of the men) we find ourselves based at the Lord Butler Leisure Centre and Carver Barracks Airfield.
When we meet
We meet weekly every Tuesday evening alternating between Lord Butler Leisure Centre and Carver Barracks airfield. There are also other club training sessions at various times through the year, such as circuit training on Thursdays in the winter, and a beginners' course over 10 weeks each spring. We have some favoured runs around the town and country lanes and fields (light permitting), offering a varied degree of ease or difficulty, depending on your outlook.
Events
Throughout the winter the club competes in a closed cross-country league in the local region. In the summer we compete in a 5k road race league, run in the evening, with five other local clubs. Club members also compete in a varied selection of races, locally, nationally and internationally, these are usually on a Sunday morning. We host our own races including a "Fast 5" open held at Carver Barracks. Follow the links from this page for more details.
Club organisation
The general ethos of the club is for members to do what suits them. We do however, have a very active committee, organising lists and entry forms for running events, the sale of running kit at below shop prices, a library of relevant literature, a regular email newsletter, and various social events throughout the year.
Coaching
We have a team of UKA qualified coaches who run a variety of training sessions, almost every week of the year. For example summer outdoor circuit training, winter gym core training and hill running sessions from October onwards.
The social scene
Of course we have an annual dinner, who doesn't? We go a bit further with a "Tinsel" run around the town at Christmas with mulled wine and mince pies "al fresco" in the Market Square. Then there are barbecues, wine tastings and anything else we can think of. Tuesday is the evening for "après run" in the Old English Gentleman, for an exchange of stories and a drink or two. WE ALSO DO SERIOUS RUNNING!
How to join
If you would like to come for a "try out", please complete the Trial membership form before attending one of our sessions. Come suitably attired and join one of our groups who run at a variety of paces and distances (high speed marathon runners excepted). The annual subscription is terrific value and we can offer help to those who are hard pressed financially. There is a "no pressure" culture throughout. Full membership forms with details of club fees can be found here.
It's fun! Come and join us!