Saffron Striders have a varied programme of training sessions throughout the week. It means that whatever your ability, there will be something to suit!
BEGINNERS' COURSE
The next Beginners' Course starts on 8th May 2018 for 10 weeks
Suitable for all abilities from those who have never run before to those returning to running after a long absence. Sessions will be held weekly from Tuesday 8th May, at 6.30pm at the Lord Butler Leisure Centre, Saffron Walden. Each session will last approx. an hour. 
The course costs £40 which includes a tee shirt, drinks bottle, kit bag, 10 weeks of coaching, suitable for all abilities, insurance, and club membership for 2018/19.
On completing the 10 week course all finishers will be presented with a certificate at our club 5k race on 12th July.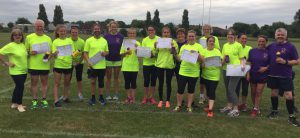 Please download  and complete a Membership form here and a Disclaimer form here and bring them with you along with cash or cheque for £40 (payable to Saffron Striders) to the first session. All sessions start at 6.30pm from Lord Butler Leisure Centre.
For more information either email us at coach@saffronstriders.org.uk or pay us a visit at the Lord Butler Leisure Centre any Tuesday evening at 7.45pm.
TUESDAYS
This is the main weekly club run. Winters are spent on a variety of road-based sessions in the town, including a monthly time trial. You can keep up-to-date with your progress here. In the summer when light permits, we head out into the surrounding beautiful countryside for some varied off-road runs.
Meet at 8pm in the foyer at the Lord Butler Leisure Centre, Saffron Walden.
THURSDAYS
Summer Circuits

Keith Savill and Mike Bradley will be leading Summer Circuit training, starting 12th April 2018, from Lord Butler Leisure Centre at 7pm. Note, not on Thursdays when there is a 5k race.
WEEKENDS
There are occasional long runs on Sunday mornings in the build up to spring marathons, see the club Race Calendar or Members Facebook page for details.
CIRCUIT TRAINING

Winter circuits has now finished for 2018. See above for details of Summer circuits.